Countertops are an essential design element in any kitchen. Depending on what countertop material you select, your countertops could take a back seat to your cabinets, or they could be the focal point of your kitchen, adding character and visual appeal. When you choose natural stone, such as granite, marble and quartzite, or man-made quartz, you'll infuse your kitchen with the beauty of stone. However, you can also introduce drama depending on what pattern, texture and veining you selected for your countertops.
Marble is a truly timeless stone filled with delicate texture
Many types of marble feature dramatic veining that can really stand out in any kitchen setting. When the veining of marble is paired with a white backdrop it creates a cool, calming effect in your kitchen. Or, if you choose a variety of marble with browns and golds, it will provide a warmer ambiance that some homeowners may prefer.
Granite offers classic beauty and versatility
When you are looking for veining, pattern and texture that truly elevates any kitchen design, you can't go wrong with granite. Granite offers a wide range of color combinations and palettes, contrasting elements and visual depth. Whether you prefer the warmer tones or the dark markings, you can make a bold statement when choosing granite countertops for your kitchen.
Quartzite has very unique and intriguing patterns
Quartzite may not get the same level of praise as marble and granite, but you can definitely find eye-catching and unique varieties that rival them if you are looking at quartzite countertops. Quartzite will add dazzle to your kitchen due in part to the particles of quartz that are embedded in the stone. These sparkle in both natural and artificial lighting conditions, making a powerful statement in your kitchen.
Quartz is an elegant, engineered stone
One of the biggest pluses of quartz for kitchen countertops is the depth and dimensionality it can deliver. Quartz is man-made and is made up of crushed quartz, resin and polymers. Pigments can also be added to enhance the natural colors found in quartz. Quartz comes in a wide variety of colors meaning it can complement a wide range of kitchens.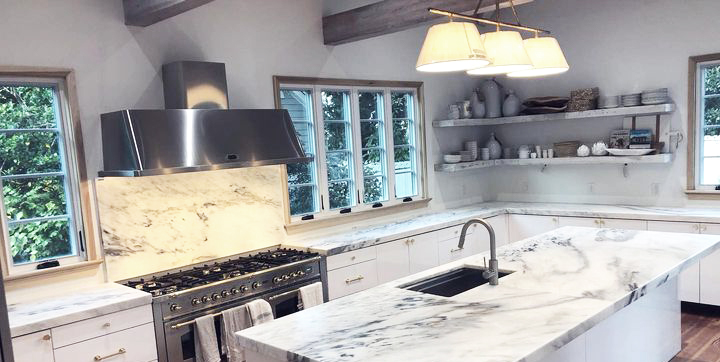 Not every countertop will have veining, pattern and texture, but you only need just one of these elements to have the kitchen you long for. With so many counter top options available, picking the right stone for your style can be overwhelming.
If you need help selecting the right countertop and material for your kitchen and personal style, call C&C Stoneworks today. We can help you pick a countertop that offers the character you want while making a unique statement that showcases your own personal style. We are here to help!