As gray and white countertops continue to be popular, we think this is a great time to talk about dolomite countertops. This lesser-known stone is a good option for customers who want the look of marble but need something less expensive and more durable.
Here we will tell you everything you need to know, the characteristics, pros and cons, so you can decide if dolomite is a good choice for your kitchen countertops.
What Is Dolomite?
Dolomite is a sedimentary rock resulting from limestone and lime mud coming into contact with groundwater that is rich in magnesium. Because of that, the rock is quite similar to limestone in its coloring and composition. Dolomite is also called Dolostone to prevent confusion with the mineral dolomite which is a significant part of the stone's composition.
High polished slabs cut from dolomite rock, dolomite countertops look great and are commonly confused as marble or quartzite to the untrained eye. However, that is where the confusion ends, because dolomite is not as fragile and soft as marble but is not as hard and resistant as quartzite.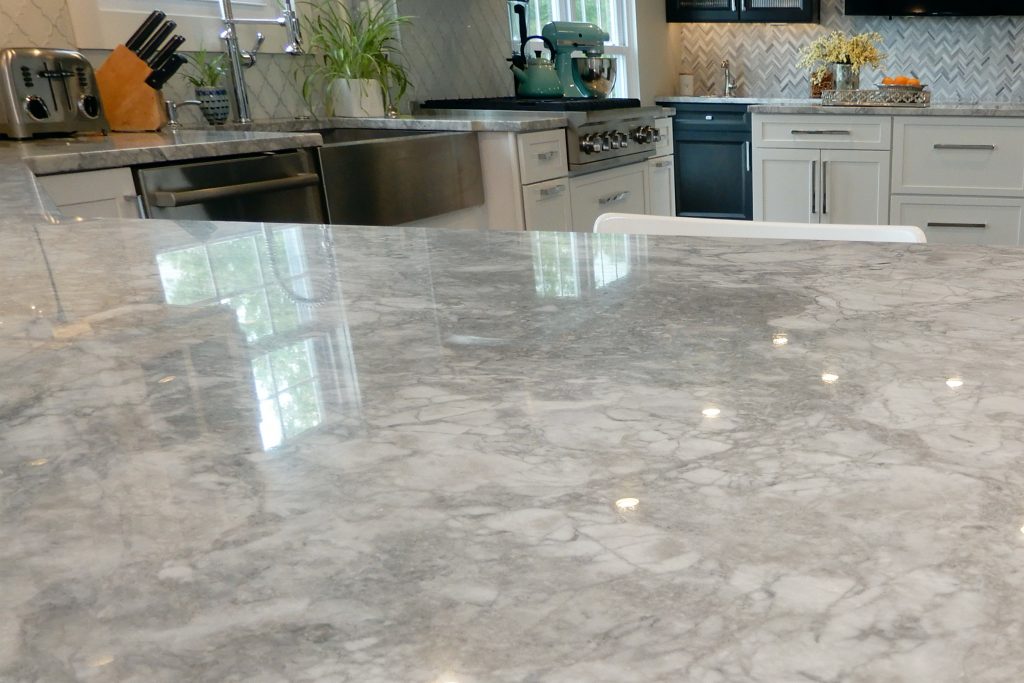 Here are some specifics characteristics of dolomite so you will know all the pros and cons of choosing dolomite stone as your countertop material.
Appearance
Often found with gray and white coloring containing streaks allowing it to resemble marble is the main reason dolomite countertops are popular.
The stone's appearance and traits lend itself to sophisticated styles which makes it perfect for countertops and backsplash designs.
Hardness (Scratch Resistant)
Dolomite is harder than average, and not as fragile as marble. On the hardness scale, dolomite is superior to marble's ratings, however it is not as scratch proof as granite and quartzite. Customers will need to be careful with the dolomite countertops, they can be scratched by glass and metal, so cutting boards are a must!
Durability
Dolomite countertops will outperform marble and last longer. These stones can last decades if they are taken care of properly.
Although dolomite stone is more prone to chipping and cracking than granite, it is likely not to happen and is very resistant to wear and tear.
Resistance To Stains
Dolomite is less liquid absorbent and sensitive to acids than marble, however it still requires annual sealing and acids are definitely a no-no as dolomite will etch if exposed to them.
When you choose dolomite, you can feel safer than you would with marble, but maintenance is still needed and should be taken.
Heat Resistance
This is where dolomite countertops shine over quartz – heat resistance is their greatest strength. Quartz countertops are more resistant to scratches and stains than dolomite, but quartz cannot take heat or sunlight. A hot pan on quartz marks it for life, but dolomite can, and will, hold heat well making it one less thing to worry about.
Price
This is another area where dolomite is a great option. In most cases, dolomite is more affordable than marble, quartz and in some cases granite. Dolomite costs will vary depending on a supplier, but you can expect them to generally range between the costs of quartzite and marble.
Are Dolomite Countertops Right for You?
Now that we've given you the characteristics, pros and cons of dolomite countertops, if you have any other questions, give the experts at C&C Stoneworks a call.
If you are in the market for a white or gray countertop, we can help you narrow down your choices. Marble offers an amazing look but is the more fragile choice. Quartz offers great options of durability and less maintenance, but it cannot take the heat. Dolomite offers great looks at a more affordable price, but still requires plenty of attention.
With that in mind, give us a call and let us help you pick the right stone countertop for your home and lifestyle. We would love to schedule a consultation and have you visit our showroom located in Greenville, North Carolina. Give us a call at 252-902-5535 today.