During construction or remodel, you will have to select a new sink for your kitchen. At C and C Stoneworks, we provide high-quality countertops with top-notch craftsmanship, as well as sink options from quality manufacturers. Stainless steel undermount kitchen/bar/laundry sinks are included in all quotes unless otherwise stated. We have other sinks we are able to purchase at a different charge such as porcelain and stainless-steel apron front sinks, 0 radius sinks, and more. We also have the ability to supply any Moen faucets or fixtures for your kitchen or bath.
​One of the first things to consider when selecting a kitchen sink is the size and configuration. Commonly, there are three different options – 50/50, 60/40, single bowl and apron front.

50/50 Sink
This is a very popular sink option for the kitchen! This double-bowl, 50/50 sink is perfect for multi-tasking with two equally sized basins. Although you have greater flexibility of use, one downside is that cleaning larger dishes may be a more difficult task in this sink configuration.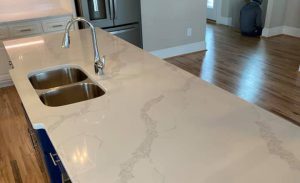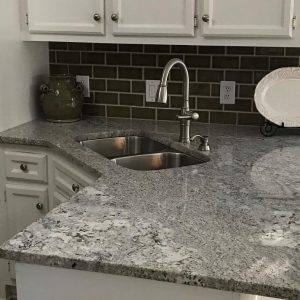 60/40 Sink
This sink has two different sized basins that gives you the flexibility of having two compartments while also including enough space to wash oversized dishes in the larger basin.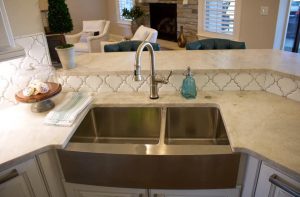 Single Bowl Sink
The single bowl sink is pretty trendy right now and looks sleek in any kitchen! This option can be favorable in terms of space when it comes to washing large dishes. But, if you're looking for a sink with more flexibility to multitask, you may benefit from a multiple basin sink.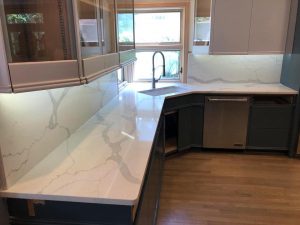 Apron Front Sink
Also known as farmhouse sinks, the defining characteristic of an apron front sink is a large, forward-facing side that replaces a section of the counter and cabinetry. This sink is available in multiple basin styles and adds charm to any kitchen design.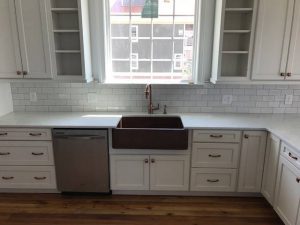 As far as sink material, we recommend a stainless-steel sink because:
It compliments nearly any color and style.
It Is easy to clean and sterilize.
It is less prone to staining.
It is very durable and won't chip, crack or fade.
It is heat resistant.
It is affordable (and often included in your countertop installation estimate).
It is environmentally friendly.
Now it's time for the fun part – choosing the perfect sink to go along with your new, beautiful countertops! Visit C and C Stoneworks' showroom today to see your many options. Our experts can help you find the perfect kitchen sink to fit your lifestyle and needs!