You decided to get new kitchen countertops and you had to make a lot of decisions. First, do you want granite, marble or quartz? Then you had to pick the design. Do you like veining or something less dramatic. Do you need a design that is warm or cool? But you didn't realize that one of the other decisions you would have to make was regarding the countertop edge style.
You may not think that this is as a big a detail as the other choices, but it can have a pretty significant impact on the overall design style of your kitchen. The edging on countertops can make your kitchen design feel dated, modern or somewhere in between – we call it "transitional".
What are the options available to me?
There are so many edge styles to choose from, that we decided we would make it easier for you by putting them in a chart. We are going to break these down by standard edges, premium edges and custom edges and give you some information about these popular edge styles.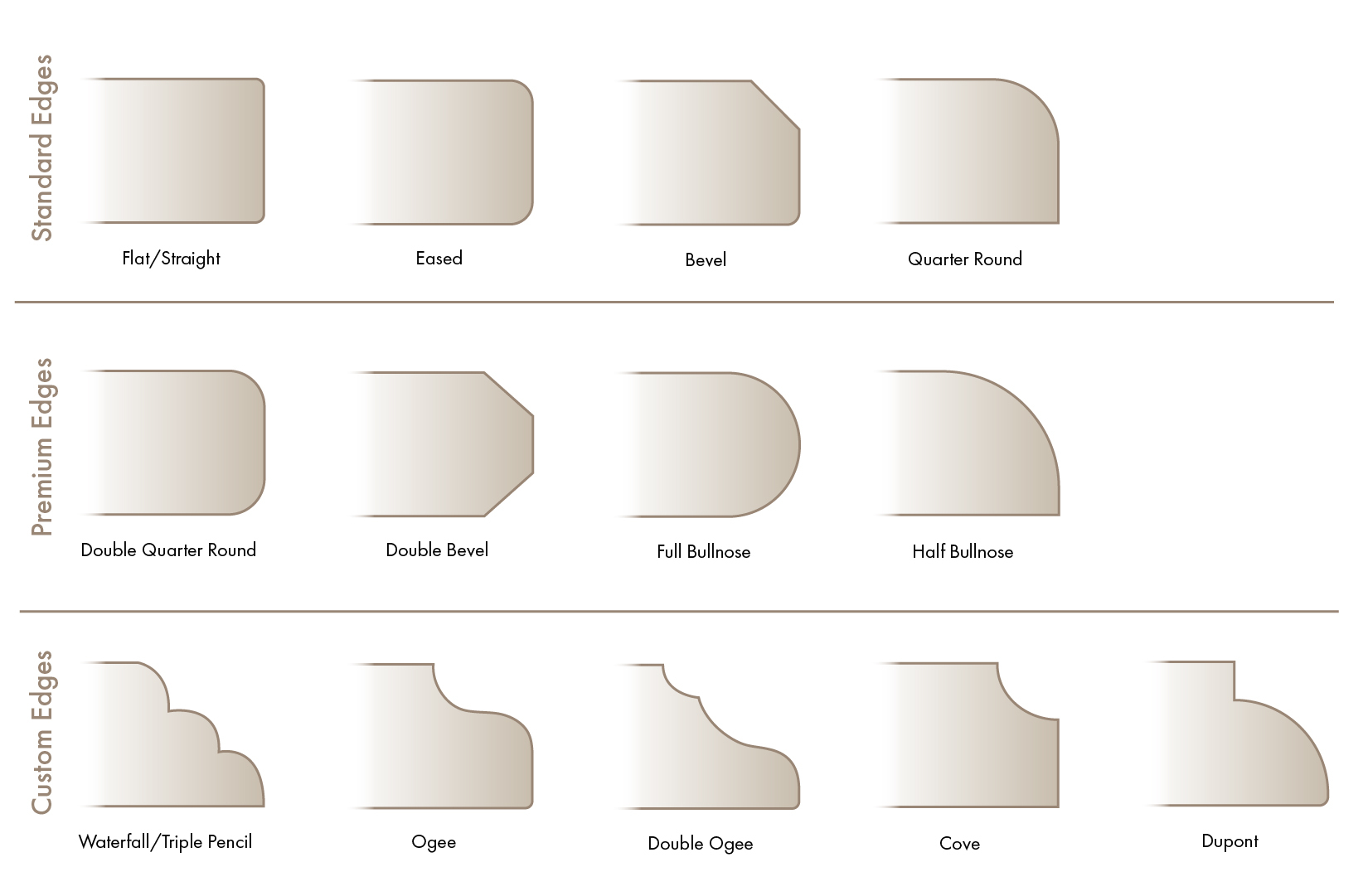 Straight Edge:
Straight edges are perfect if you are searching for a clean design. This edge style is slightly rounded on the corners which protects the stone.
Beveled Edge:
A beveled edge is one of the most popular edge styles, probably because it offers a sleek, angled look.
Quarter Round Edge:
Homeowners pick this edge style for its simplicity and elegance without intruding into the overall design of their kitchen.
Waterfall Edge:
Waterfall edges are great when you want to make your countertops the focal point of the kitchen and highlighting the beauty of the stone you choose. This edge style should not be confused with a waterfall countertop which is a trendy style when the countertop continues down the side of an island or cabinetry.
Ogee Edge:
The Ogee edge offers an elegant, yet classic look that pairs well with a kitchen that is traditional in style.
How do I know what edging is right for me?
Start with the style of your kitchen.
When you are choosing other elements for your new or remodeled kitchen pay attention. When you pick cabinet doors, light fixtures, appliances, backsplash tile and flooring, you could see a pattern developing. Are you choosing materials with curved lines or are you sticking with clean lines and sleek styles? Wherever your style is going for those elements that will help you decide on countertop edge style.
Do you need something family friendly?
If you have young children or grandchildren that are running around your house, you may want to consider an edge that is more rounded. Smooth, clean lines look absolutely amazing, but they are not great for kids. Rounded edges are safer than straight edges.
What is your budget?
Obviously, custom edges are more intricate, and prices are higher on those edge styles. o up. Simple, standard edge styles will be less expensive and more budget friendly than premium or custom edge options because less work is involved. Premium and custom edges are sure to give your kitchen a statement-making countertop, but you may find that the standard edge styles will give you the tasteful looks and style that fits any kitchen at a budget-friendly cost.
Are you ready to move forward with your kitchen transformation?
C&C Stoneworks is ready to help you! We specialize in natural and engineered stone fabrication and installation across all of eastern North Carolina. Our team can help you pick the perfect countertop and edging for your kitchen's style. Give us a call today, 202-902-5535.